Tokyo has faced a number of waste problems in its history. Each time such problems arose, Tokyo has worked together and exchanged ideas with citizens, businesses, national and municipal governments, and waste treatment and recycling operators in order to resolve them.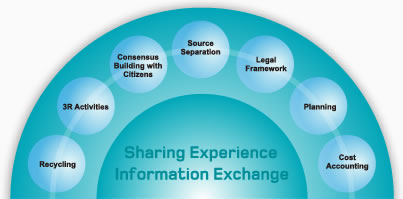 Promotion of thorough source separation and voluntary recycling
activities by residents
Consultation for maximizing the reutilization of sorted waste with
recyclables collectors and manufacturers which utilize the recyclables
Promotion of citizens' environmental consciousness through
discussion with citizens and other various mediums
Environmental education in primary schools in order to form a sound
material cycle society for the present and future
Consensus building with residents in the area when building waste
treatment facilities such as an incineration plant
For complete pollution prevention, implementing appropriate
operation and management at incineration plants and facilities for
preventing pollution
We would like to share Tokyo's experiences, laws and systems for promoting appropriate disposal and recycling to contribute to solving the
waste problems that Asian cities are facing.
Time and content for information sharing and opinion exchange will be set up after individual consulting.

Working toward the objective of improving recycling technologies and promoting waste management measures in individual cities, the program offers training on waste treatment and recycling technologies to personnel from member cities involved in waste policies and to technical personnel for recycling. The program includes lectures on the current state of waste treatment and waste policies of the Tokyo Metropolitan Government as well as site tours waste incineration facilities, treatment facilities and other related sites.
Member Cities
Bangkok, Delhi, Hanoi, Jakarta, Kuala Lumpur, Manila, Seoul, Singapore, Taipei, Tokyo, Tomsk, Ulaanbaatar, Yangon (13 cities)

Tokyo Metropolitan Government conducts bilateral intercity technical exchanges and cooperation in 3Rs and waste management, according to the needs of participating cities, by the framework of practical cooperation "Urban and Global Environment Problems" aiming to solve waste management issues common to major cities.