Tokyo is the center of government, economy and culture of Japan, where government offices and headquarters of large companies are located, as well as being a city of 13 million residents. In order to process huge amounts of household waste efficiently and effectively, incineration plants and recycling facilities with the most advanced technologies are located in a small area. If you plan to make an administrative visit contact us with a list of the facilities and technologies that you wish to observe, we will make all the necessary arrangements.
Examples of facilities
Waste incineration facilities
Twenty-one waste incineration facilities are located within a small area of approximately 622km2 in the 23 wards of Tokyo. These facilities are found not only in the waterfront area but also in residential and commercial area and even in front of train stations.
At all of the facilities, power is generated, pollution control equipment is introduced, and stable operation management is conducted. In order to
build trusting relationships with local residents, operation councils with participation from representatives of local residents, municipalities, and
Clean Authority of TOKYO are held periodically to discuss the operation of incineration plants. Moreover, thorough disclosure of important
information is made.
Ash recycling facilities
For further decreasing the final waste disposal volume, Tokyo is working on recycling ash generated from waste incineration plants. Ash is recycled in two methods.
Ash melting: Ash is melted into slag and used as roadbed materials, etc.
Eco-cement: Cement containing ash as an ingredient is produced and used as a civil engineering and building material
Recycling facilities for waste electrical and electronic equipment
Facilities for processing food waste into biogas
More detail, click here
Application
Please contact us via the mail below.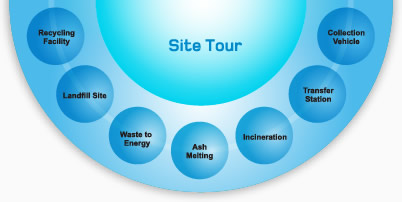 Contact us